HÄKKI annual report 2014 online!

—————————————————————
ROMUTUS 7″ out now! Umpio vs Noituus = 17 tracks in 12 minutes.
Harsh junk abuse grindcore bulldozer music.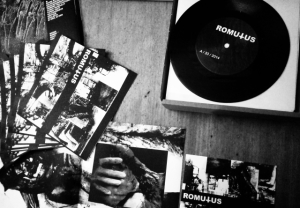 —————————————————————
Very honored to be part of Monochrome Vision's massive 3xCD anthology!! Keep 'em coming Dmitry!!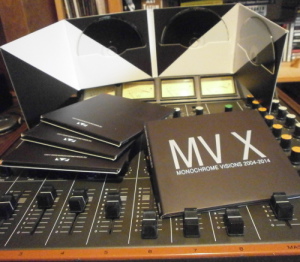 —————————————————————
TDK– Senseless Bells — C-40 tape — Tolonen vs KVSU vs Dassum collaboration out on Kaukana Väijyy Ambient label — Switzerland vs Finland elektroautistix works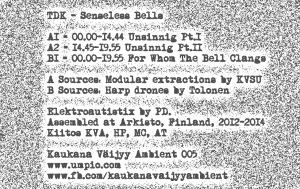 —————————————————————
CUHMANUBIANA –CDR
Kuhmalahden Nubialaiset plays sacred temple music. 3 drone sessions from the late hours recording our albums, mixed and arranged into one album of levitation sounds. Out now on Nekorekords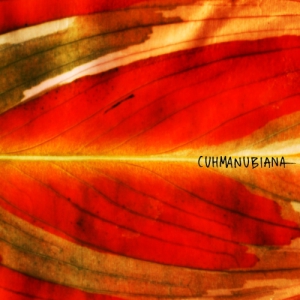 —————————————————————
NUNNAUUNI // SSRI — split tape on Untergeschoss!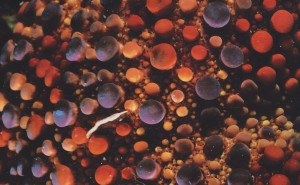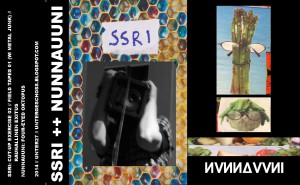 —————————————————————
KIITOS:
26.8. Helsinki / Duet with Linda Fredriksson at:
Charm of the Scenes event on 26.8. at KoeHelsinki tent in Juhlaviikot. Thanks for everybody for your participation! As you may know, the idea of the event is that the performers are teamed up as pairs, so we will have three duos performing one after another. Our choice for the pairs is this:
Linda Fredriksson (saxophone) + Pentti Dassum (electronics)
Heta Bilaletdin (guitar) + Mikko Kolehmainen (electronics)
Ilia Belorukov (saxophone) + Chi-Hsia Lai (electronics)
—————————————————————
10.7. Tampere / Telakka / Häiriöjatsit / UMPISIPPOLA set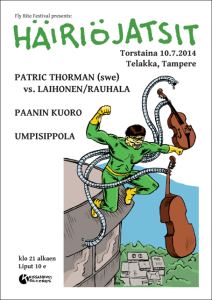 ——————————————————-
26.7. Turku / Kutomo / Feces IV / +Pink Twins +8 1/2 +Sentrifugi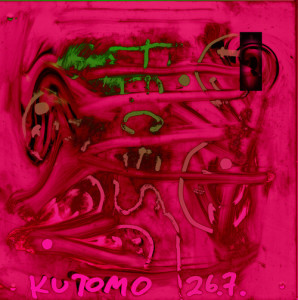 See more info at Golden Momentum tumblr!
—————————————————————-
Thanks for Kaunas!!
Everyone at Creature Live Art made it very easy for me + very rewarding recordings were made!
Thanks for London!
Amazing performances, cool meeting people behind the names + hailz to GUAPO!!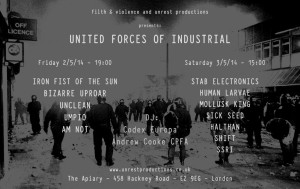 —————————————————————
LATEST RELEASES:
Taklamakan vs Umpio : Interaxion Venenosa -LP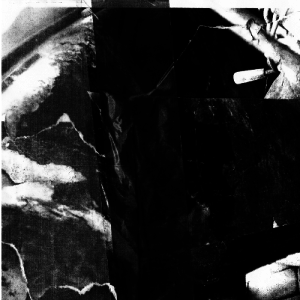 Finally out on A Dear Girl Called Wendy from Italia, 100 made! Another project which took a few winters of sending back and forth… Taklamakan from Croatia used my electronic textures as a backdrop for acoustic junk abuse and vice versa. Asphixiation and collapse!
—————————————————————
Umpio — Opium Electronix vol.I-III -2xC-90 Tape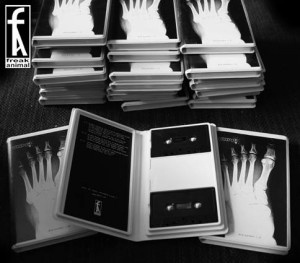 Reissued on Freak Animal, these were kinda hard to find and/or lost in time. These are throbbing movements through electronic storms, at times so slow and seismic that the listener needs some time to let the pulses start to work properly on a psychoacoustic level. Opium is also an anagram of Umpio, which brings out the meditative/sedated aspects of these pieces, aimed at erasing all sense of time and presence. From noisy to empty, here are the first 3 volumes compiled on chrome tapes: Vol.I has been augmented with 2 new pieces from the same source material, vol.II has been slightly shortened to fit on tape, and vol.III is unaltered.
—————————————————————
Umpio + Irr.App.(Ext.) — Observation Affects The Outcome -CD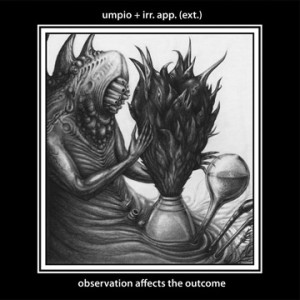 Finally out after 2-3 winters of sending sounds back and forth I am super humbled to have finished this nightmare soundtrack with Matt Waldron and Monochrome Vision, one of my favorite labels. This is a huge honor for me.
Here's what the label info has to say about it (the release date is wrong, it came out in jan2014) ——————————>
First ever collaboration between these finnich and american soundartists, collaborating by mail, incorporates both of their styles, interwined with some kind of disorienting and intricated attitude. Electroacoustic treatments applied to harsch noise and atonal ambient parts, producing a tapestry of disturbing and psychedelic soundscapes.
Release date is 28th January 2013. Limited edition of 500 copies in jewelcase.
Price is 13US$/10€.
To order directly from us, please write to hq(at)monochromevision.ru.
—————————————————————
+++ Compilation participances in UK, Russia, Finland +++ Live gigs in UK, Lithuania, Finland, duets with with Taneli Viitahuhta (sax, TORAKKAS), Jaakko Vanhala (HÄKKI), Sami Sippola (sax, UMPISIPPOLA), Linda Fredriksson (sax), Topias Tiheäsalo (gitar), sharing the stage with Patric Thorman (bass), Simo Laihonen (drums), Ville Rauhala (bass), sharing venues with ElPaLaitos, Yleislakko, Pink Twins, 8 1/2, Sentrifugi, Stolen Kidneys, Orchach (LT), Skeldos (LT), Gas Chamber (USA), Verde, Unclean, Bizarre Uproar, Am Not (UK), and many more that i forget now +++ Cosmo Jones Beat Machine gigs + Faarao gigs +++ Some klonkstruments were built…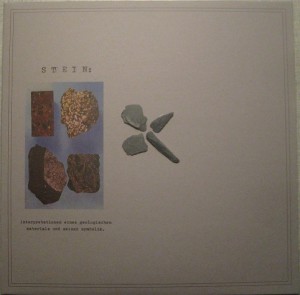 Hailz to Lazyfish!
OK… over+out +backsoon……. PD